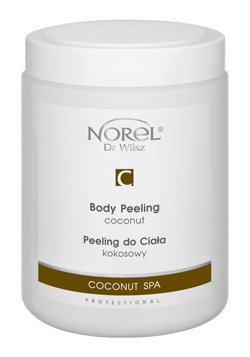 Coconut SPA
- Coconut body peeling
Ref. PP 329
Indications: Creamy body scrub with a subtle coconut scent; also recommended for use as a mask for dry and damaged skin or after tanning.
Ingredients: coconut shreds, coconut oil, vitamin E, PE peeling spheres.
Effects:
• coconut shreds peel off and smooth out the epidermis
• coconut oil released during massage replenishes lipids and makes the skin more elastic
• intensely regenerates damaged skin
• leaves the skin velvety smooth and moisturized.
1000 ml