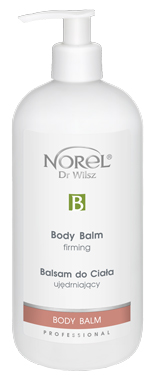 Body Balm
Firming body balm with algae
Ref. PB 071
Indications: Body balm with a velvety texture and refreshing scent for use as the final stage of treatments or for firming massage. Recommended for the skin with symptoms of cellulite, decreased firmness and elasticity.
Ingredients: algae, vitamins A and E, sunflower oil, panthenol.
Effects:
• intensely moisturizes and regenerates the skin, making it firmer
• enhances the effects of slimming and anti-cellulite treatments
• improves microcirculation and promotes toxin removal from the skin
• leaves the skin smooth and soft.
500 ml