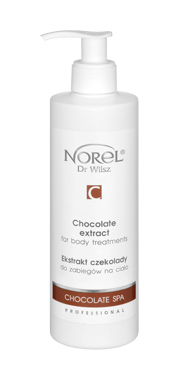 Chocolate SPA
Chocolate extract for body treatments
Ref. PE 186
Indications: Extract for use with the Hot Chocolate Mask.
Ingredients: concentrated cocoa bean extract (a source of caobromine, theobromine, polyphenols, mineral salts, iron, magnesium, calcium, phosphorus, and vitamins A, E, F and H).
Effects:
• aids the burning of fat tissue
• detoxifies the skin
• regenerates the skin and slows down its aging.
280 ml