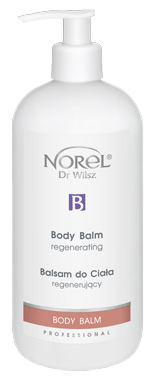 Body Balm
Regenerating body balm with soya extract
Ref. PB 072
Indications: Body balm with a rich texture recommended for the mature skin with such signs of aging as flaccidity, poor hydration or dryness.
Ingredients: soya, alfalfa, grapeseed oil, vitamins A and E, panthenol, allantoin.
Effects:
• moisturizes, regenerates and elasticizes the skin
• stimulates collagen and elastin synthesis
• soothes the skin and relieves irritations
• leaves the skin wonderfully smooth, soft and silky.
500 ml