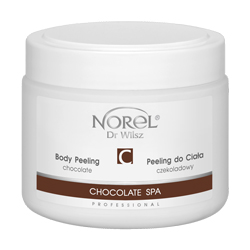 Chocolate SPA
Chocolate body peeling
Ref. PP 269
Indications: Body scrub in the form of gel with finely-ground cocoa bean husks.
Ingredients: micronized cocoa bean husks, chocolate extract (a source of caobromine, theobromine, polyphenols, vitamins and mineral salts), pumice powder.
Effects:
• peels off dead epidermal cells
• makes the skin smoother, boosts oxygen supply and improves skin tone
• nourishes the skin and promotes its regeneration
• leaves the skin smooth, soft and chocolate-scented.
PP 269 - 500 ml
PP 269 - 500 ml