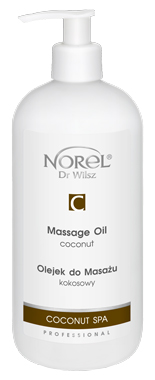 Coconut SPA
Coconut massage oil
Ref. PB 331
Indications: Oil for use during relaxing massage, recommended for dry and very dry skin with signs of aging or damaged by sun or indoor tanning.
Ingredients: oil extracted from coconuts.
Effects:
• strengthens skin's immune system
• alleviates symptoms of skin irritation, atopic dermatitis and psoriasis
• provides optimum long-lasting hydration
• makes the skin softer, smoother and more elastic, and imparts a nice coconut scent.
500 ml