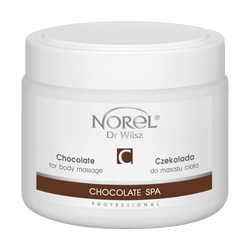 Chocolate SPA
Chocolate for body massage
Ref. PB 234
Indications: Rich-textured creamy chocolate with a dark chocolate scent for use during lymphatic drainage and slimming massage or for body wrapping.
Ingredients: chocolate extract (a source of caobromine, theobromine, flavonoids, vitamins and mineral salts), shea butter.
Effects:
• stimulates microcirculation and improves lymph flow
• reduces fat tissue and oedema
• stimulates the synthesis of endorphins: the so-called happy hormones
• revitalizes, regenerates and softens the skin.
500 ml