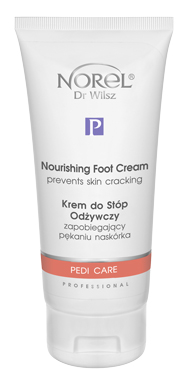 Pedi Care
Nourishing foot cream – prevents skin cracking
Ref. PK 396
Indications: Nourishing foot cream with a rich regene-rating formula.
Ingredients: liquorice, soapwort, lavender, lanolin, panthenol, lavender essential oil, menthol, camphor.
Effects:
• replenishes lipids and softens dry and hardened epidermis
• prevents painful heel cracking
• relieves irritations and promotes healing of microinjuries
• protects the skin from fungal infections
• deodorizes the feet and offers a nice cooling sensation.
200 ml