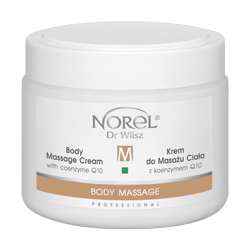 Body Massage
Body massage cream with Coenzyme Q10
Ref. PB 070
Indications: Massage cream with a subtle, neutral fragrance. Spreads easily and offers excellent glide during massage.
Ingredients: coenzyme Q10, vitamins A and E, allantoin.
Effects:
• replenishes skin moisture and lipids
• makes the skin more elastic, tighter and firmer
• regenerates the skin, boosts oxygen supply and slows down aging
• after massage, the skin is relaxed and well supplied with blood.
500 ml