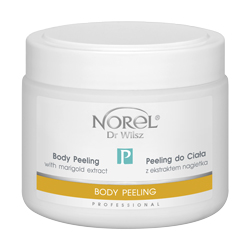 Body Peeling
- Body peeling with marigold extract
Ref. PP 086
Indications: Body scrub with a nice creamy texture, recommended for all types of skin.
Ingredients: marigold extract, vitamin E, PE peeling spheres, sunflower oil.
Effects:
• thoroughly cleanses the skin
• exfoliates dead epidermal cells
• peels off and 'polishes' even dry and flaking skin
• its active ingredients regenerate the skin and relieve irritations
• leaves the skin silky smooth and soft.
500 ml