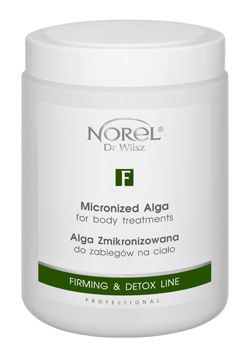 Firming & Detox Line
Micronized algae for body treatments
Ref. PN 136
Indications: Algae for use during slimming, anti-cellulite and firming treatments.
Ingredients: Fucus Vesiculosus and Ascophyllum Nodosum algae (a source of calcium, magnesium, sodium, potassium, phosphorus, iodine, aminoacids, polysaccharides, PUFAs, and vitamins.
Effects:
• active ingredients contained in the algae are quickly absorbed into the epidermis
• detoxifies the skin
• reduces fat tissue, regenerates and moisturizes the skin
• makes the skin visibly tighter and firmer.
660 ml