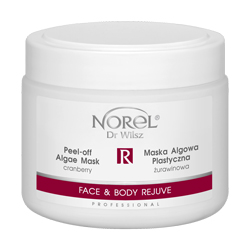 Face & Body Rejuve - Cranberry peel–off algae mask
Ref. PN 163
Indications: A mask for use in revitalizing and lifting treatments Face & Body Rejuve. For use in combination with Cranberry Concentrate.
Ingredients: microalgae, diatoms, micronized cranberries.
Effects:
• makes the skin firmer and full of vitality
• promotes penetration of
• active ingredients into the skin
• strengthens and intensely moisturizes the epidermis
• leaves the skin tighter, velvety smooth and full of radiance.
250 g