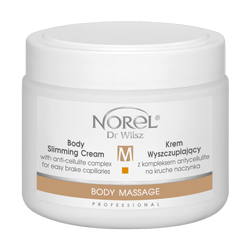 Body Massage
Body slimming cream with anti-cellulite complex for "spider veins"
Ref. PB 068
Indications: Cream for use during body sculpting massage, lymphatic drainage and body wrapping, recommended for the skin with fragile capillaries prone to bleeding.
Ingredients: algae, ivy, southernwood, butcher's broom, melilot, L-carnitine, chestnut tree, arnica, hamamelis, liposomes containing rutin and vitamin E, panthenol, sunflower oil.
Effects:
• promotes cellulite reduction
• makes the skin firmer and more elastic
• makes fragile capillaries stronger and more elastic
• relieves irritations.
500 ml