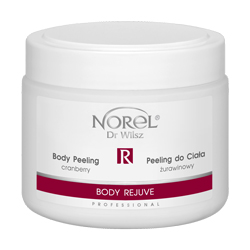 Body Rejuve
Cranberry body peeling
Ref. PP 177
Indications: Body scrub for use during anti-age, spa and wellness treatments.
Ingredients: cranberry extract (a source of vitamin C), allantoin, pumice powder, grapeseed oil, vitamin E, shea butter.
Effects:
• gently peels off and smoothes out the epidermis
• promotes the absorption of active ingredients used during the subsequent stages of treatment
• stimulates collagen synthesis, makes the skin firmer and strengthens capillaries
• leaves the skin velvety smooth, soft and delicate.
PP 177 - 500 ml
PP 178 - 1000 ml